Twin Coupé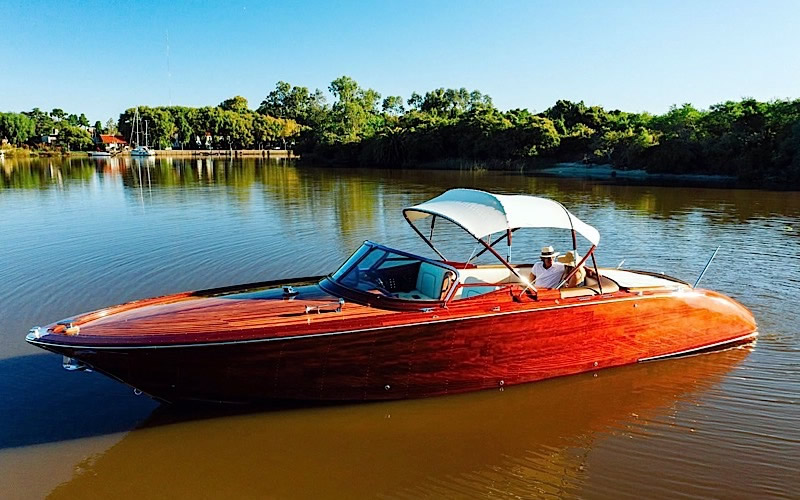 El nuevo modelo de Arion Design, lleva la elegancia atemporal a un nivel superior en embarcaciones.

Arion Design's new project takes timeless elegance to a higher level in powerboats.
Arion Design, diseñador y constructor de lanchas de madera, presenta su nuevo modelo.
Esta embarcación de alta perfomance de 30 pies de eslora, combina un diseño clásico atemporal tanto en su exterior como en su interior.
Su diseño de cubierta sobrio y equilibrado se logró manejando cuidadosamente las formas sin comprometer la funcionalidad.
Esta moderna embarcación fue construida con maderas preciosas provenientes de distintas partes del mundo, uniéndose para lograr los objetivos de desempeño deseados.

Arion Design, a wooden boat designer and builder, present its new Project.
This high performance 30 foot long vessel combines both classic interior and exterior design with timeless elegance. Its sober, balanced deck design was achieved by carefully manipulating forms without compromising function.
This modern vessel was constructed with imported precious hardwoods sourced from several countries around the world, all of which come together to meet the desired performance objetives.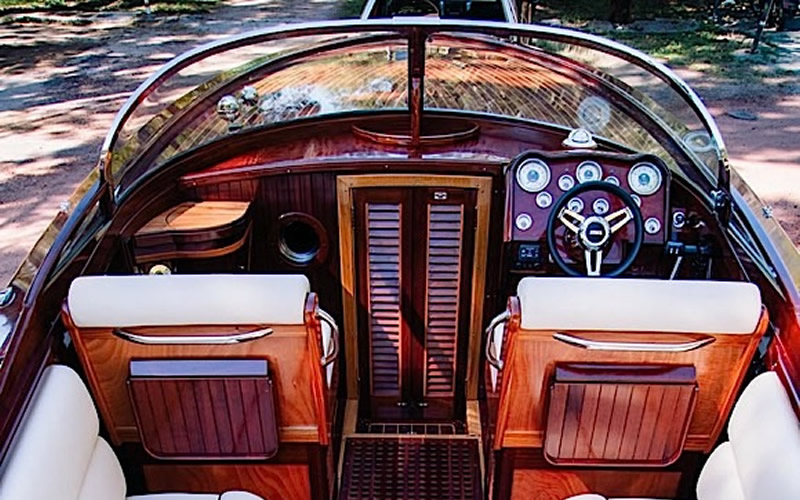 Cada componente estructural del casco, se diseñó con programas CAD (diseño asistido por computadora) y han sido cortados con sistemas robóticos de control numérico (CNC) para garantizar la máxima precisión y ajuste.
Este barco personalizado ha sido construido utilizando resinas epoxi y tornillería de acero inoxidable para garantizar una perfecta estanqueidad, resistencia y durabilidad.
Además, antes del montaje, cada pieza fue sometida a un tratamiento de conservación a fin de aislarla del ambiente.

Each hull structural component was designed with a CAD (Computer Aided Design) program and cut by a robotic system to ensure maximum precision and fit.
This custom boat was built utilizing epoxy resins and stainless steel fasteners to ensure perfect water tightness, strength and durability in addition, prior to assembly each part underwent a wood-preserving treatment to prevent rotting.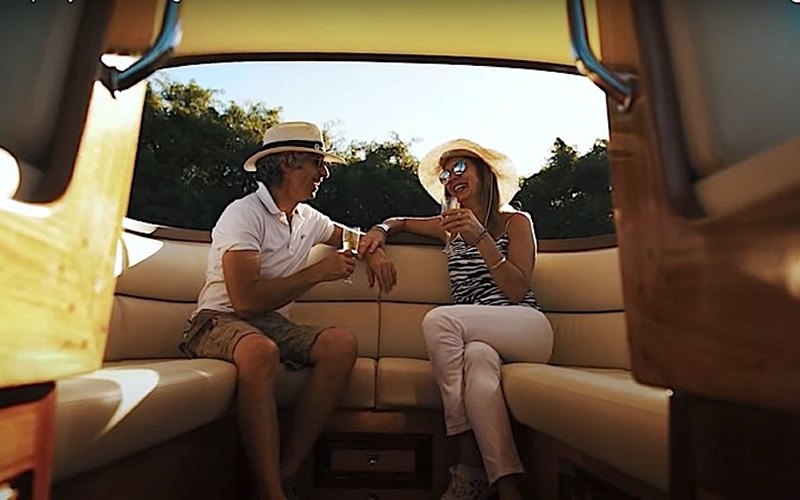 El barco fue diseñado para una instalación de dos motores con una potencia total de 560 HP. Está equipada con dos tanques de combustible de acero inoxidable grado 316 ubicados a ambas bandas, con capacidad total de 400 litros, ampliable a 600 litros bajo pedido.
El puesto de comando cuenta con butacas para timonel y acompañante, más un amplio asiento en forma de U en la parte posterior del cockpit con comodidad para 8 personas.
Este espacio se completa con un solarium ubicado sobre la sala de máquinas, con acceso a la plataforma de baño equipada con escalera telescópica y ducha. El timonel cuenta con un panel de instrumentos integral de altísima calidad. El parabrisas curvo envolvente de cristal laminado tiene un sofisticado aspecto clásico.
Bajo la cubierta de proa, encontramos un amplio y cómodo camarote para descansos en travesías. Su sistema de fondeo de cabrestante eléctrico posee un ancla de acero de tipo Claw.
Arion Design se enfoca en la comercialización de sus embarcaciones de alta gama en el mercado internacional.

The boat was designed for twin engine 560 horsepower installation. It is equipped with 400 liter capacity, grade 316 stainless steel, fuel tanks located on both sides of the vessel. If desired, fuel tank capacity can be expanded to 600 liters.
Foward cockpit features pilot and copilot upholstered seating, and rear cockpit provides "U" shaped upholstered seating for 8 people.
A sun deck is also provided above the rear engine compartment together with rear water level deck and telescopic boarding ladder.
The pilot area is designed with an innovative high quality comprehensive instrument panel. The curved laminated cristal windscreen has a sophisticated classic look. The bow includes a comfortable cabin, and a mooring "Claw" type anchor equipped with an electric winch stowed below deck.
Arion Design is focused on marketing high end vessel and competing internationally.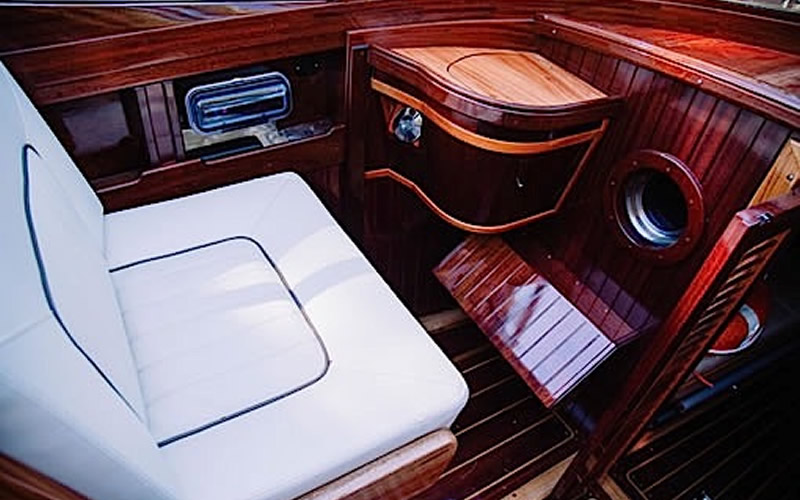 ESPECIFICACIONES
Material del casco / cubierta: Madera
Dimensiones: (en milímetros)
Longitud total: 9323
Haz: 2723
Puntal: 1591
Calado: 952
Eslora en la línea de flotación: 7186
Peso en vacío: 7900 libras (3600 kgs.)
Motores: Dos (2) motores Volvo Penta V-6 de inyección directa 4.3 litros con sistema de propulsión dúo Stern Drive y hélices gemelas contrarrotantes.
Potencia (total): 560 hp (280 hp por motor)
Refrigeración del motor: sistema de agua de mar con intercambiador de calor.
Combustible: Gas / Gasolina
Tanque de combustible: Capacidad de 105 galones líquidos estadounidenses (400 litros), ampliable a 158 galones líquidos estadounidenses (600 litros). Construcción de acero inoxidable grado 316 con alarma y válvula de cierre.
Tanque de agua potable: capacidad de 16 galones líquidos estadounidenses (60 litros)
Velocidad de crucero: 30 nudos (34,5 millas por hora)
Velocidad máxima: 43 nudos (49,5 millas por hora)

ASPECTOS DE STACADOS DEL DISEÑO CASCO / CUBIERTA
Método de construcción: West System
Epoxy - Casco de madera/epoxi de triple capa, construido con cedro de grado marino y caoba sapale africana.
Bastidores de quilla, roda y cuadernas fresadas con CNC de roble de eslavonia.

SPECIFICATIONS
Hull / Deck Material: Wood
Dimensions: (in millimeters)
Total Length (overall): 9323
Beam: 2723
Strut: 1591
Draft: 952
Length at waterline: 7186
Dry weight: 7900 lb s (3600 kilograms)
Propulsion Engines: Two (2) 4.3 liter Volvo Penta direct injected V-6 engines with Stern Drive duo prop system and counterrotating twin propellers.
Horsepower (Total): 560 hp (280 hp per engine)
Engine cooling: Seawater system with heat exchanger (Engine Hours: Brand new (testing time only)
Fuel: Gas/Petrol
Fuel Tank: 105 US liquid gallons (400 liters) capacity, expandable to 158 US liquid gallons (600 liters). Stainless Steel 316 grade construction with alarm and shut-off valve.
Potable Water Tank: 16 US liquid gallons capacity (60 liters)
Cruising Speed: 30 knots (34.5 miles per hour)
Maximum Speed: 43 knots (49.5 miles per hour)

DESIGN HIGHLIGHTS HULL / DECK
Construction Method: West System Epoxy – Triple layered Wood / epoxy hull, built with marine grade cedar and African sapale mahogany.
Keel, stem and CNC routed hull frames built with Slavonian oak.