Aston Martin Residences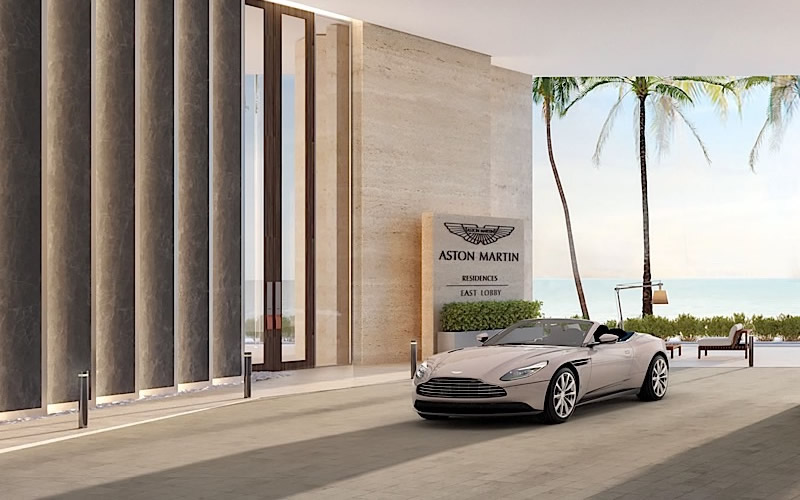 Fotografías/Photos: © Aston Martin Residences
El icono británico del mundo del automóvil se embarca en su primer proyecto inmobiliario con un desarrollo en Miami orientado al mercado del diseño residencial de lujo.

British icon of the automotive world embarks on its first real estate venture with an expansion into luxury residential design.
Después de más de un siglo de definir la elegancia atemporal y el lujo artesanal británico dentro del mundo automotriz, Aston Martin está trasladando su ingeniería de precisión y su innovación en el diseño a la primera incursión de la compañía en el desarrollo residencial de lujo.
Se prevé que Aston Martin Residences en 300 Biscayne Boulevard Way en Miami se convierta en una de las direcciones más codiciadas del país cuando se complete en 2022, con una prestigiosa exclusividad y un edificio único que representa el epítome de la vida de elegancia. Con una ubicación ideal en el corazón del centro de Miami, la torre, única en forma de vela, redefinirá el horizonte dinámico de la ciudad con una propiedad histórica frente al mar que establece un punto de referencia mundial en diseño residencial de lujo. Para su visión de la torre de 66 pisos ubicada en el río Miami y con vista a la Bahía de Biscayne, Aston Martin se ha asociado con el desarrollador inmobiliario global, G&G Business Developments, fundado por el CEO, Germán Coto. Aston Martin Residences Miami es el primer desarrollo inmobiliario de lujo del mundo del fabricante de automóviles británico.
Aston Martin Residences, que se prevé que se convierta en el edificio residencial más alto al sur de Nueva York, está diseñado por Revuelta Architecture y Bodas Miani Anger Architects, reconocidos mundialmente por sus excepcionales y emblemáticas propiedades. Un total de 391 residencias combinarán una estética de diseño impresionante, con espectaculares vistas panorámicas de la Bahía de Biscayne y el Océano Atlántico. El desarrollo incluirá siete penthouses, todos con piscinas privadas y amplias terrazas, complementados con una amplia gama de residencias y dúplex expandibles de una a cinco habitaciones. La joya de la corona es el Penthouse Triplex, un magnífico condominio de tres pisos, que abarca un total de 27,191 pies cuadrados de espacio habitable, situado en el pináculo de la propiedad.

After more than a century of defining timeless elegance and British handcrafted luxury within the automotive world, Aston Martin is translating its precision engineering and design innovation for the company's first ever foray into luxury residential development.
The Aston Martin Residences at 300 Biscayne Boulevard Way in Miami, is anticipated to become one of the country's most coveted addresses upon its completion in 2022, with a prestigious exclusivity and one-of-a-kind edifice that represents the epitome of elegant living. Ideally located in the heart of downtown Miami, the unique sail-shaped tower will redefine the city's dynamic skyline with a landmark waterfront property that sets a global benchmark in luxury residential design. For its vision of the 66-story tower situated on the Miami River and overlooking Biscayne Bay, Aston Martin has partnered with global property developer, G&G Business Developments, founded by CEO, German Coto. Aston Martin Residences Miami is the first luxury real estate development in the world by the British automotive manufacturer.
Anticipated to become the tallest residential building south of New York, Aston Martin Residences is designed by Revuelta Architecture and Bodas Miani Anger Architects, globally renowned for their exceptional landmark properties. A total of 391 residences will combine breathtaking design aesthetic, featuring spectacular panoramic vistas of Biscayne Bay and the Atlantic Ocean. The development will include seven penthouses—all featuring private pools and spacious terraces–complemented by a range of expansive one to five-bedroom residences and duplexes. The jewel in the crown Triplex Penthouse is a magnificent three-floor condominium, spanning a total 27,191 square feet of living space, situated at the pinnacle of the property.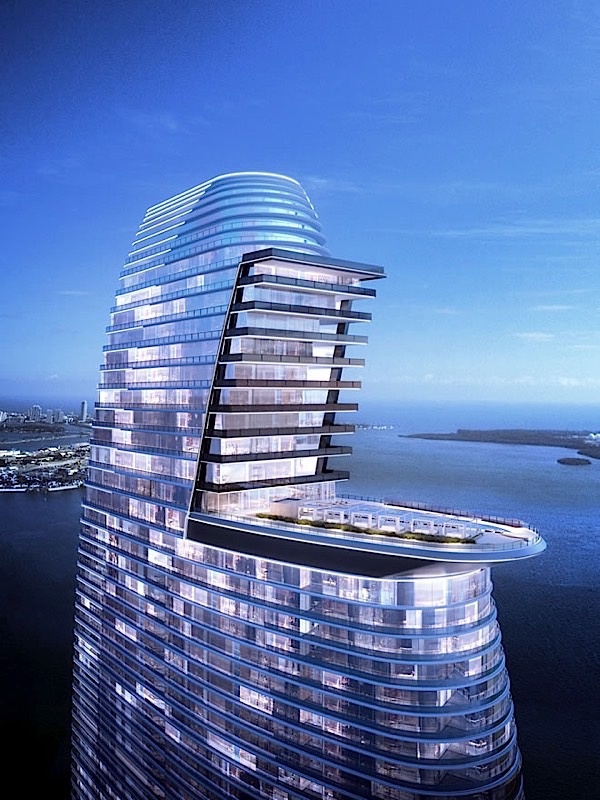 El equipo de diseño de Aston Martin, dirigido por el vicepresidente ejecutivo y director creativo, Marek Reichman, diseñará el interior y los espacios de servicios en toda la propiedad para reflejar la belleza atemporal de Aston Martin. Los residentes podrán relajarse y descansar dentro de los 42,275 pies cuadrados de los excepcionales servicios Sky que abarcan cuatro niveles, conectados por una escalera de vidrio monumental entre los pisos 52 y 55 del edificio. Las comodidades de clase mundial incluirán un gimnasio de dos niveles con vista a la Bahía de Biscayne, un estudio de spinning, un gimnasio de boxeo, una sala de golf virtual, una galería de arte, una cocina gourmet, un comedor privado con cocina de catering, un centro de negocios, una sala para niños, dos cines, como así como un spa de servicio completo, salón de belleza y peluquería. Estos exquisitos espacios estarán enmarcados en una audaz sinfonía de vidrio curvilíneo y acero, como parte de un edificio de temática náutica que refleja el entorno de la marina y ofrece magníficas vistas de la ciudad y el océano. Las áreas compartidas incluirán una hermosa piscina infinita, Sky Bar and Lounge, terraza de la piscina y cabañas ubicadas en el piso 55. Los residentes también disfrutarán de acceso directo a la Bahía de Biscayne a través de un exclusivo puerto deportivo de superyates ubicado junto a la propiedad. Esto sirve como el único puerto deportivo de aguas profundas en el centro de Miami.

Aston Martin's design team, led by EVP and Chief Creative Officer, Marek Reichman, will design the interior and amenity spaces throughout the property to reflect Aston Martin's timeless beauty.
Residents will be able to relax and unwind within 42,275 square feet of outstanding Sky Amenities spanning four levels, connected by a monumental glass staircase between the building's 52nd and 55th floors. World-class amenities will include a two-level fitness centre overlooking Biscayne Bay, spinning studio, boxing gym, virtual golf room, art gallery, chef's kitchen, private dining room and catering kitchen, business centre, kids' room, two cinemas, as well as a full-service spa, beauty salon and barber station. These exquisite spaces will be encased in a bold symphony of curvilinear glass and steel, as part of a nautical-themed building that reflects the marina setting while offering superb views of the city and the ocean. Shared areas will include a beautiful infinity pool, Sky Bar and Lounge, pool deck and cabanas located on the 55th floor. Residents will also enjoy direct access to Biscayne Bay via an exclusive superyacht marina located adjacent to the property. This serves as the only deep-water marina in downtown Miami.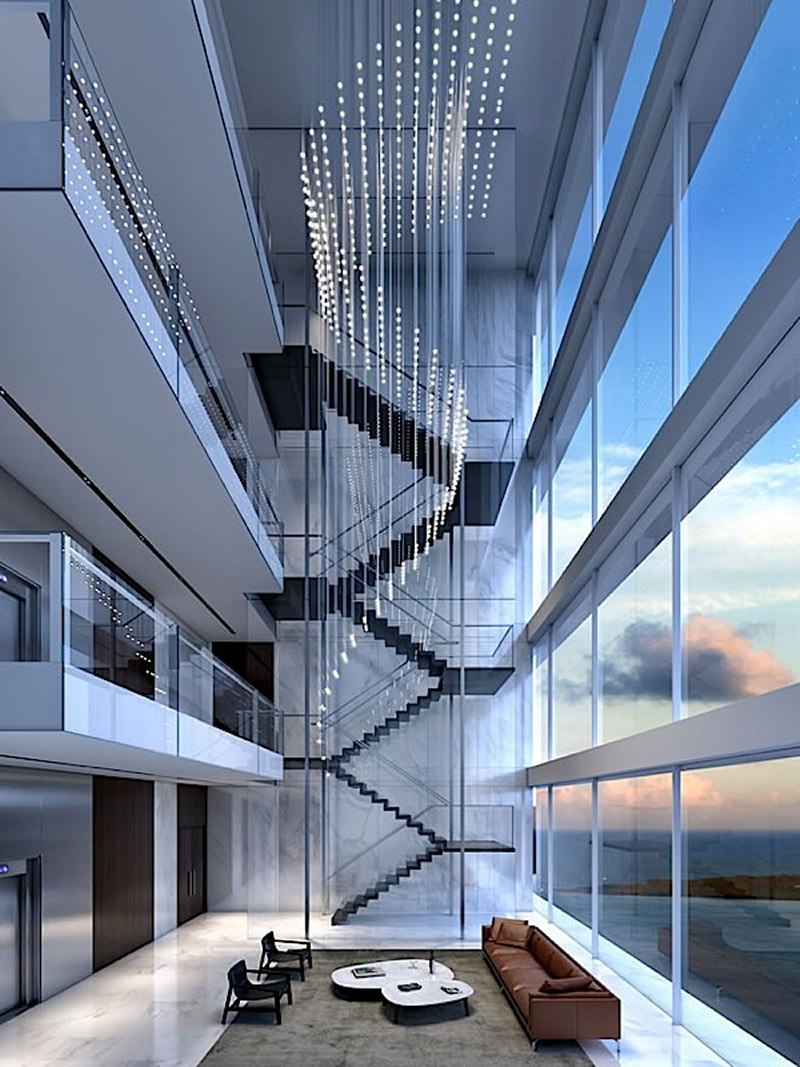 "Estoy particularmente orgulloso de este proyecto y de nuestra asociación con una marca británica tan icónica", dice German Coto, director ejecutivo de G&G Business Developments. "Estamos trabajando en estrecha colaboración con el equipo de diseño de Aston Martin para crear una torre impresionante que mejorará y contribuirá a un nuevo horizonte de Miami. Nos ha abrumado la respuesta positiva del mercado con preventas extremadamente alentadoras. En Aston Martin, encontramos el socio perfecto, uno que resuena a nivel mundial y es la definición de lujo atemporal. La colaboración es una hermosa mezcla de tecnología, estilo y elegancia y juntos estamos construyendo un lugar muy deseable para vivir, estableciendo nuevos estándares tanto en diseño como en calidad de vida."
Cada aspecto de Aston Martin Residences se ha considerado cuidadosamente para satisfacer las necesidades del estilo de vida cosmopolita y moderno de hoy, incluido un exclusivo servicio de mayordomo que encapsulará la vida de élite en su máxima expresión. El servicio de mayordomo estará disponible las 24 horas del día, los 7 días de la semana y eliminará el estrés de la administración del hogar al ofrecer asistencia en viajes de lujo y una serie de otros servicios para los propietarios.
"En este, nuestro primer desarrollo residencial, los interiores están inspirados en Aston Martin, pero tienen en cuenta el entorno tropical de Miami", dice Marek Reichman, vicepresidente ejecutivo y director creativo de Aston Martin. "Nuestro lenguaje de diseño se basa en la belleza y la honestidad y autenticidad de los materiales. Es simple y puro y tiene una elegancia unida a hermosas proporciones. Incorporamos el ADN de Aston Martin a través de detalles sutiles y artesanía fina, con énfasis en la comodidad. Este edificio es para personas que aprecian la mejor calidad y la artesanía, que aman la sensación de algo que es atemporal".

"I am particularly proud of this project and our partnership with such an iconic British brand," says German Coto, CEO of G&G Business Developments. "We are working closely with the Aston Martin design team to create a stunning tower that will enhance and contribute towards a new Miami skyline. We have been overwhelmed by the positive response from the market with pre-sales that are extremely encouraging. In Aston Martin, we found the perfect partner–one that resonates globally and is the definition of timeless luxury. The collaboration is a beautiful mix of technology, style and elegance and together we are building a highly desirable place to live, setting new standards in both design and quality of life."
Every aspect of the Aston Martin Residences has been carefully considered to meet the needs of today's modern cosmopolitan lifestyles, including an exclusive butler service that will encapsulate elite living at its very finest. The butler service will be on-call 24/7 and take the stress out of home management by offering luxury travel support and a host of other services to homeowners.
"In this, our first residential development, the interiors are inspired by Aston Martin, but take into consideration Miami's tropical environment," says Marek Reichman, EVP and Chief Creative Officer at Aston Martin. "Our design language is based on beauty and the honesty and authenticity of materials. It's simple and pure and it has an elegance attached to beautiful proportions. We are incorporating Aston Martin's DNA through subtle details and fine craftsmanship, with an emphasis on comfort. This building is for people who appreciate the finest quality and craftsmanship, who love the feeling of something that is timeless."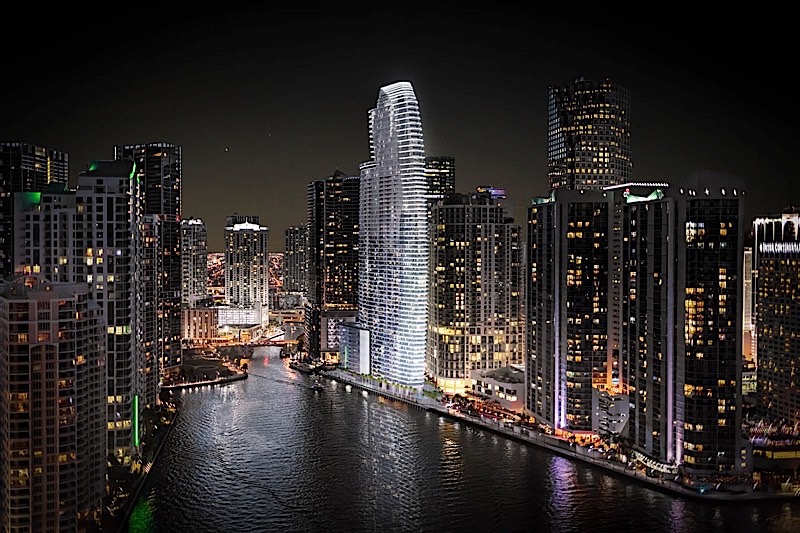 Completando el centro de ventas de Aston Martin Residences, ubicado junto al desarrollo en el centro de Miami, se encuentra un Aston Martin Vulcan, uno de los 24 ejemplares del superdeportivo de fibra de carbono de 820 bhp de la marca que ofrece un rendimiento verdaderamente extremo. La millonaria obra de arte automotriz, de edición limitada, es en un blanco resplandeciente, inspirado en Miami y especificado personalmente por el vicepresidente ejecutivo y director creativo de Aston Martin, Marek Reichman, para reflejar el entorno tropical. El propietario del Triplex Penthouse recibirá la icónica obra de arte automotriz, diseñada solo para conducción en pista.
Los propietarios de las residencias Signature optarán por recibir la exclusiva DB11 Riverwalk Edition o la DBX Riverwalk Edition, el primer modelo SUV de Aston Martin. Marek Reichman especifica personalmente los elementos personalizados, como interiores hechos a mano, materiales y acabados de lujo, así como otras características únicas, para reflejar el ambiente tropical de Miami. Cada modelo está limitado a solo 47 vehículos, y aquellos que tengan el privilegio de poseer uno poseerán una rara pieza de historia.
Con un diseño arquitectónico que rinde homenaje a las líneas elegantes e instantáneamente identificables de sus automóviles, Aston Martin imaginó una estructura que captura perfectamente el espíritu de emoción y elegante belleza por la que es mundialmente famoso.
Aston Martin Residences, ubicado en 300 Biscayne Boulevard Way en el centro de Miami, consistirá en 391 residencias de lujo con precios desde $ 970,000 hasta más de $ 50 millones. El desarrollo está vendido en más del 60% [a noviembre de 2020], y la finalización está programada para el 2022.

Completing the Aston Martin Residences sales centre, located adjacent to the development in downtown Miami, is an Aston Martin Vulcan, one of only 24 examples of the brand's 820bhp, all-carbon fibre supercar that delivers truly extreme performance. The multi-million-dollar limited edition showpiece of automotive art is resplendent in white, inspired by Miami and personally specified by EVP and Chief Creative Officer of Aston Martin, Marek Reichman, to reflect the tropical surroundings. The owner of the Triplex Penthouse will receive the iconic piece of automotive art, engineered for track driving only.
Owners of the Signature residences will choose to receive either the exclusive DB11 Riverwalk Edition or the DBX Riverwalk Edition – the first SUV model by Aston Martin. Custom elements such as crafted interiors, luxe materials and finishes, as well as other unique features are personally specified by Marek Reichman to reflect Miami's tropical environment. Each model is limited to just 47 vehicles, and those privileged to own one will possess a rare piece of history.
With an architectural design that pays homage to the instantly identifiable, sleek lines of its motorcars, Aston Martin envisioned a structure that perfectly captures the spirit of excitement and graceful beauty for which it is world famous.
Aston Martin Residences, located at 300 Biscayne Boulevard Way in downtown Miami, will consist of 391 luxury residences priced from the $970,000s to upwards of $50 million. The development is over 60% sold [as of November 2020], with construction scheduled for completion in 2022.